Orphaned Baby Mouse - Comments: 2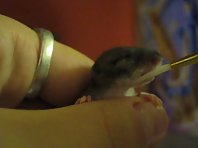 Orphaned Baby Mouse
Cute baby mouse was found by some people on the street.
Time: 02:38
Added: August 28, 2020
Views: 7999
---

OMG the way your holding the mice is not a very good way. its okay if its already grown.
heres a tip. buy a real dropper to feed the mice,
and when your holding him, wrap him in a soft towel so it wont hurt its body parts. that'd make him happy!

omg that bis so cute i want that cute thing now what is that thing anyway ok if your listnig text me i love monkeys to let you know
You have to be logged in to post comments