Search results: 2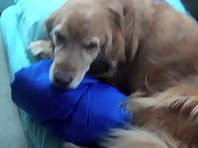 Dog's Garbage Frenzy
Ellie gets into the trash during a quiet afternoon while our family hosts 15 girls attending a youth conference near our house. Not exactly sure how much she ate but someone later admitted to leaving half a sub on top of the trash, which likely triggered her furry. On a scale of 1-catastrophic, I'd put the carnage somewhere around dogastrophic.
Time: 02:24
Added: March 13, 2020
Views: 4772
Wire Stripping Machine for Copper Recycling Auto Stripper 1-800-515-5035 MegaBee Wire
http://megabeewirecutter.com/ The MegaBee wire stripper machine features 21 cutting channels that can strip wires ranging from 1.5mm all the way up to 42mm in diameter. MegaBee Wire Cutter can be customized to fit any voltage: 110 V, 220V, 380V. Turn your trash into cash and start recycling scrap metal wires. We Ship World Wide.Visit our website or call 1(800)515-5035 for more information! We sell wholesale globally!
Time: 03:42
Added: March 31, 2020
Views: 2404