Search results: 2
Dogs With an Underbite
http://www.PuppyCityNY.com These funny dogs all have an underbite! Puppy City has been around for over 50 years, we pride ourselves in being the home for quality puppies. Call today! 718-332-3400 or visit our website for instant puppy discount codes!
Time: 01:34
Added: October 3, 2019
Views: 3866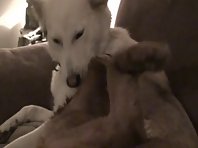 Funniest or Weirdest thing!!??
For the past 4 days my dog keeps licking the pup in the mouth , im not sure if its because she as bad breath or because shes loosing some teeth
Time: 01:55
Added: September 30, 2019
Views: 11249