Search results: 2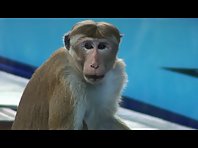 Monkey at the Hotel
In Sri Lanka, the monkeys just roam around the hotels and pee.
Time: 01:00
Added: July 29, 2019
Views: 9084
Alice The Dolphin On Skype!
Alice The Dolphin is hassling Kenny and Erica over Skype… she wants them to go to Dubai. Help get this angry dolphin off their back! Vote for this video at www.atlantisdubaibigbreak.com, or upload your own for the chance to win a holiday for 10 people.
Time: 01:30
Added: July 17, 2018
Views: 4957